Ceiling Repair Left Unaddressed Can Lead to Mould Issues!
There are many reasons why your ceiling may need to be repaired due to ceiling water damage (whether it be the result of heavy rainfall or even a broken pipe) although cosmetically your ceiling will look better, it is also particularly important for health reasons as well.  Ceiling water damage left unaddressed can lead to mould and even cause a weakened structure.  Unfortunately regardless of what the ceiling is made of i.e. plaster glass, gyprock or other material, no ceiling can be protected against the damage of water.  It is very important for this reason to act as quickly as possible when damage occurs by following these steps.
Step 1:  Stop the Cause of Water
The most important thing to do first is always stop the water leaking.  If you don't do this any repair work will be a complete waste of time and money.  Locate and find in the roof where the leak coming from.
Step 2:  Dry the Ceiling
Once the leak has been found and fixed or sealed, then begin the process of drying the ceiling i.e. with towels or large fans.  It is very important that you dry not only below the ceiling but also above the ceiling.  If water continues to drip or is still dripping it is a very clear indication that ceiling is drenched/saturated.  If the ceiling won't dry out, don't worry there are several other options that can be done:
Cut out the wet portions of the ceiling to remove saturation
Or if the ceiling is sagging:
Place a bucket under the section of sagging ceiling and punch a small hole into the ceiling to release excess water. Always be careful when doing sagging ceiling repair as water can pour down!
Always ensure that the ceiling is completely dry before proceeding with repairs as the threat of mould forming and spreading throughout the ceiling is possible.  Therefore acting on fixing the ceiling is important to avoid this rather costly and time consuming headache.  Its usually a good time to call experienced ceiling fixers who can handle this job easily for you.
Step 3:  Removing Damaged Part of Ceiling
Any loose or sagging portions of the ceiling should all be cut out and removed.  This can be done using a Stanley knife or a paint scraper to directly remove from the surface any flaking/chipping/blistering that may have occurred.
Step 4:  Preparing the Ceiling
Once joints are filled/flushed with base coat and top coat, sandpaper is used to smooth out the ridges between the affected and newly installed areas.  If there is a large hole in the ceiling, new sheets of Gyprock will be installed to repair the damaged ceiling.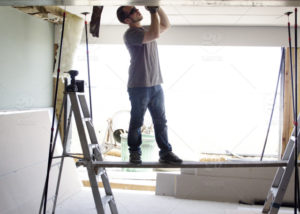 Step 5:  Painting of Ceiling
All lumps and bumps are then removed to match the rest of the ceiling and remove any visible signs of damage.  A coat of primer/sealer is applied, followed by a coat of ceiling paint to the whole ceiling, leaving a new flat ceiling with no visible signs of ceiling water damage.
Iluka Carpentry are qualified ceiling fixers and specialize in roof repairs in Perth
Iluka Carpentry and Maintenance – For all Perth Ceiling Repair Services
For More information on areas we service for leaking roof repairs Perth: Click Here
Find us on: Thales Directory